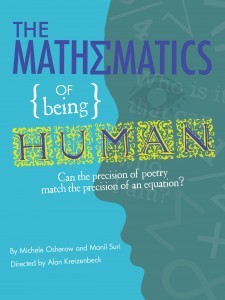 "Witty and lighthearted;" "a heady piece that engages its audience's minds;" a "mixture of comic self-mockery with an informed authenticity."
READ THE FULL AMS REVIEW
A one-act play co-written with Michele Osherow (English, UMBC). Running time: 70 minutes. Cast of four to play 2 professors, 2 students (+operator needed for projections).
An excerpt can be found at the bottom of this page. Please contact Manil Suri to inquire about staging, or for more of the play.
FULL PRODUCTIONS:
Jan 14 and 15, 2016: American Center, New Delhi (Director: Kuljeet Singh, Atelier Productions)
Mar 30 to Apr 2, 2016 (nightly at 8 pm, with an extra 2 pm show on Apr 2): University of Pittsburgh (Director: John Michnya). Watched by 400+ viewers total, over 5 shows.
STAGED READINGS:
Feb 28, 2014: St. Jerome University, Waterloo,Canada
Nov 4, 2014: UMBC, Baltimore, MD (2 shows)
Jan 11, 2015: Joint Mathematics Meetings, San Antonio, TX
Mar 8, 2015: National Museum of Mathematics (MoMath), New York City, NY
Mar 19, 2015: National Academy of Sciences, Washington, DC (excerpt)
Mar 26, 2015: Comparative Drama Conference, Stevenson University, Baltimore, MD (selected for condensed stage reading with director Michael Curry and dramaturg Janna Segal)
Jul 29, 2015: Bridges Conference on Mathematics and Art, Baltimore, MD (Public event, sponsored by MSRI)
Jan 8, 2016: Reading in Mumbai (excerpt) through the aegis of the US Embassy in India and AVID Learning
(Most directed by Alan Kreizenbeck, with actors Michele Osherow, Manil Suri, Savannah Chamberlain and Chaz Atkinson)
ARTICLES and REVIEWS:
Carnegie-Mellon University website
Joint Math Meetings Blog (review)
India Abroad Interview with Manil Suri
Washington Post Interview with Manil Suri (scroll down to second part of article)
SIAM News (review)
SPAN Magazine Interview with Manil Suri about STEAM aspects of the play
AMS Notices (review)
PITT News (article)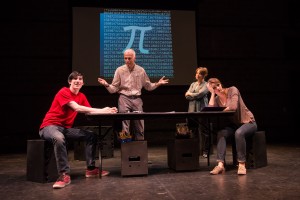 SYNOPSIS:
Battle lines are drawn when an English professor and a mathematician are compelled to co-teach a course at a university bent on promoting interdisciplinarity. They tussle over everything: from the value of 'nothing' in King Lear, to the fractal nature of cauliflower. Will they be able give their students a glimpse of synthesis or will their insularity prove impossible to surmount? In their provocative new play The Mathematics of Being Human, professors Michele Osherow (English) and Manil Suri (Mathematics) explore how finding common ground between two very different ways of thinking can shape our understanding of what it means to be human.
EXCERPT:
Scene 7 can be downloaded here. Please contact Manil Suri to inquire about staging or for more of the play.